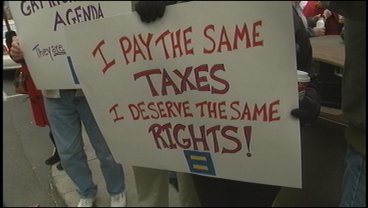 Gov. Gregoire of Washington state has signed an "everything but marriage" domestic partnerships bill.
From the article:
The domestic partnership measure was known as the "everything but marriage" bill in the Legislature. It gives gay and lesbian couples all the state benefits of married heterosexuals.
More than 5,300 domestic partnership registrations had been filed in Washington since July 2007.
Washington is one of five states along with New Jersey, California, New Hampshire, Oregon, and the District of Columbia with laws that recognize civil unions or domestic partnerships similar to marriage.

Five states have legalized same-sex marriage. Thirty states have gay marriage bans.